From 24 Accessibility: https://www.24a11y.com/2018/accessible-and-inclusive-tech-events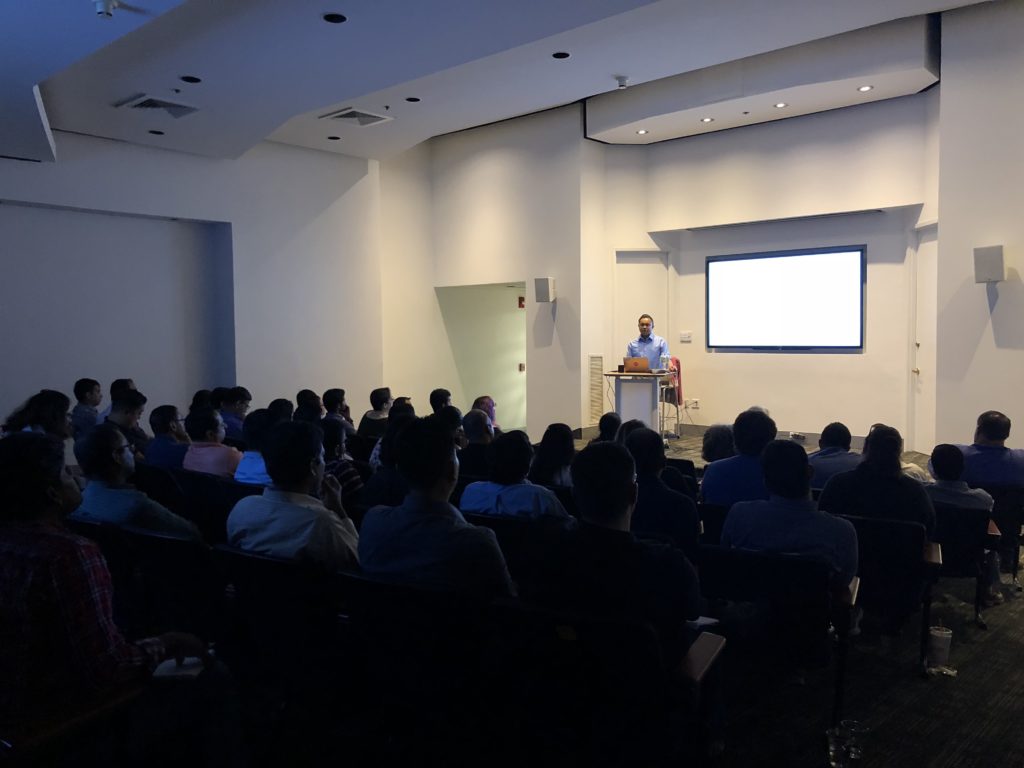 I've been attending networking and tech events for over a decade. I have also been an event producer and organizer. As technologists and web accessibility practitioners, we're very excited to talk about what we do, both online and offline. So there are no shortage of tech classes and bootcamps to learn more about new frameworks engineering practices.
There's everything from small talks and panel discussions, to large multi-day conferences. But I have noticed a shortage of accessibility, from at least the way we're planning and organizing our events.
When presenting design and technology, are we ensuring our events are accessible? Would the same people we're hoping to serve with our technology feel welcome and included at our events?
It would be ironic to host an event in which the topic is digital accessibility, but not provide an accessible physical location.
Here are a few questions to consider when you plan your next meetup or tech event. If you're invited to speak, ask the event organizers these questions.
Have you included anyone with a disability to speak? Why or why not?
It is everyone's responsibility to advocate for inclusion— but this is especially true for those of us who work within accessibility but do not have a disability.
Much like it would be absurd to host an all-male "women in tech" panel, it should be unusual to see an accessibility event that did not include speakers or attendees with disabilities. So if you see that happening, ask why.
We create better experiences when we actually involve the people we're building for; this applies to both digital and physical spaces. Instead of only speaking on behalf of people with disabilities, we should be supporting inclusion and listening to the voices of those who actually live with these experiences first-hand.
Is the venue accessible? Are there ramps, elevators and accessible restrooms?
I live in a city where affordable event space is often difficult to come by. Many tech talks or industry happy hours are hosted in bars, coffee shops, or in a company's office after hours.
Having produced events ranging from big award shows to intimate podcast recordings, I know there are all sorts of considerations when it comes to planning. Is the space large enough for the expected number of attendees? Is there adequate lighting? Is there an audio/video solution for presenters? Can we bring in food and drink?
But too often, the physical accessibility of a space is overlooked. So ask: is the event on the first floor, or is there elevator access? Is the building ADA compliant? Are these details listed on the event description? This can make the difference between someone attending or be denied access.
Will there be any closed captioning or ASL interpretation? If no, how do we get the sponsorship or funding to pay for it?
For small events such as weekly or monthly tech meetups, this might be difficult to achieve. But instead of using your budget toward alcohol or swag, consider interpretation services or video recording with closed captioning.
This would allow a wider range of different people, with different abilities, to access the presentation and learn. If there is no current budget for this, how do we encourage sponsors to take part in this worthwhile aspect of the event? You could appeal to their interest in inclusion. If sponsors want to reach a wider audience—and really grab their attention—providing accessible services can be one way. Include closed captioning or ASL interpretation in your event or conference sponsorship packages.
Is there any kind of honorarium or payment that can be given to nonprofit?
If you're fortunate enough to be paid to speak, especially at more high-profile events, consider donating the honorarium or a part of the payment to an accessibility or disability-related organization, such as Knowbility.
Donating to an organization that supports our cause would further help improve people's lives.
Wrapping it up
It might seem obvious to ask these questions. But, I've observed that technology and the events around it tend to move fast. How do we keep up that pace and ensure nobody gets left behind?
Our goal should be to meet or exceed the same type of attention that goes into our technology but for our in-person events. Accessibility is the journey, but inclusion is the destination.
The post How To Advocate For Accessible And Inclusive Tech Events appeared first on 24 Accessibility.